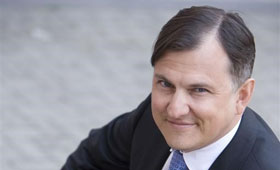 Ask our legal expert!
Gencs Valters
Claim your FREE copy
Doing Business Guide in the Baltics.
Gencs Valters law firm was awarded as winner of IAIR Legal Awards 2011 Estonia
The winners of IAIR LEGAL AWARDS 2011 have been announced on December 15th. The IAIR (International Alternative Investment Review) winners and nominees were selected through an independent survey of readers covering different key practice areas.
GENCS VALTERS LAW FIRM was awarded as winner of IAIR Legal Awards 2011 (Estonia).
Gencs Valters Law Firm in Latvia was established in 2000, Riga (Latvia), where the firm's main office is located. In 2007 the firm expanded in the Baltic's by establishing offices in Tallinn (Estonia) and in 2008 in Vilnius (Lithuania).
"We are full service law firm in Latvia, Estonia, Lithuania – said Valters Gencs, Founder of Gencs Valters Law Firm – general practice international business law firm, which specializes in tax, mergers and acquisitions, labour, corporate, intellectual property, immigration and litigation in Latvia, Lithuania, Estonia. The law firm has 13 lawyers and tax consultants in the Baltic's. The firm has particularly strong ties with Scandinavian clients due to its involvement in the Scandinavian chamber of commerce's activities".
Mr. Valters Gencs serves as the Chairman of the Norwegian Chamber of Commerce in Latvia and has lectured in the Stockholm's School of Economics in Riga.
"We are glad to receive the award from the honorable publication IAIR which news we follow constantly and appreciate insider look at various subjects, specifically succession planning and green energy issues – commented Valters Gencs -. As regards to the Baltic states, due to drastic decrease of real property prices, there is plenty of opportunities in investing long term in real estate and actually the banking industry is putting a bet on that in many occasions overtaking mortgaged properties of non performing loans into related real estate companies for a fraction of the value, hoping in long term earn on the increase of the property value. Secondly, government offices and municipalities in the Baltic states has become more flexible in retaining and obtain new strategic investments and interested parties are welcome to negotiate terms of investments. Especially in respect is ahead Lithuanian and Estonian governments. Thirdly, the Baltic's as part of the EU from 2004 has excellent place for VAT transactions, especially Estonia and Latvia for companies outside EU. Attractive may be also Estonia corporate income tax regime which does not tax undistributed profits."