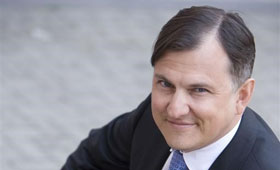 Ask our legal expert!
Gencs Valters
Claim your FREE copy
Doing Business Guide in the Baltics.
Real Estate Guide 2016: Real estate purchase agreement in Lithuania / Part 3
Part 3

Register the transfer of title to the property in the Real Estate Register
According to the Lithuanian law, the registration of the sale-purchase agreement of the real estate is not compulsory, and it is deemed effective with respect to its parties, irrespective of its legal registration. However, only registration makes the transfer opposable to third parties. In addition to the registration, a new property certificate is issued to the new owner of the real estate, at no cost when it is issued in the process of registering ownership rights to the sold property.
As of 2009, it is possible for the notary to electronically register the sale-purchase agreement through (NETSVEP - Public Electronic Service of Transaction of Real Estate).
Apart of certain limitations, all data of the Real Estate Register are available to the public. It is possible, upon payment of a set fee, to obtain information on the legal status (including present and former owners, registered tenants/ encumbrances, etc.) of any real estate registered with the Real Estate
Register (there are certain restrictions).

Depending on the case a real estate transaction may involve the following taxes and fees:
Personal income tax 15% of the profit of the sale otf the real estate, if the real property has been in posssession less than 3 years (acquired before 1s JAN 2011) and less than 5 years (acquired

after 1 t JAN 2011), shall be paid by the seller;

Notary fee: charged for certification of a real estate sale and purchase agreement: 0,45% of the contract price, but not more than 5 800 EUR. Notary fee can be paid by either party or partially by both of them;

Registration fee: applied for legal registration of the ownership of real estate with the Real Estate Register. It mainly depends on the type and average market value of real estate purchased (from 3 to 1 450 EUR).
This article is a brief introduction to the practical aspects of acquiring property in Lithuania. It is not specific to any particular transaction or property and if you have any questions or would like further information on any aspect mentioned here, please contact:
If you want to read the previous articles, please visit these links - Part 1 and Part 2.
Vilnius office – Vilniaus vartai 6rd floor,
A. Tumeno Street 4, LT - 01109, Vilnius, Lithuania
T: +370 52 61 10 00
F: +370 52 61 11 00